Have you heard the rumours that Keanu is supposedly engaged to actress Claire Forlani?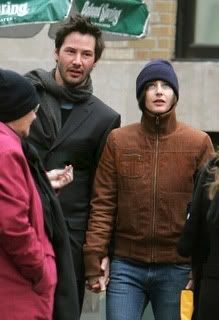 From Star Mag:
Keanu and Claire Tying the Knot!
Life-long bachelor Keanu Reeves, 41, has proposed to his secret girlfriend of three years, actress Claire Forlani, 34 - and the two are planning a wedding before the end of the year, sources say. "Keanu didn't tell anyone in advance that he was going to propose," a source close to the couple says. "He just did it - and Claire didn't have to think twice. He's never been happier."